Today, more than half of the world's population is under the age of 30. As a collective force, young people have extraordinary potential to mobilise and influence global movements, which can be initiated in the form of a simple pledge and actions for change.
We are asking you to support this global youth-led movement and sign a simple pledge and decide what actions you would like your governments and businesses to take to ensure that the food system you grow up in is healthy, just, and sustainable. 
Why?
Did you know that today's young people are at risk of inheriting a planet that will be over four degrees warmer, that will threaten the availability and nutritional quality of what we eat, the air we breathe and the communities we live in?
The critical role that the food system plays in shaping our planetary and individual health is now undisputed. The food system is responsible for 30% of human-made greenhouse gas emissions and is the primary driver of biodiversity loss, with agriculture threatening 86% species at risk of extinction. Three billion people worldwide cannot afford a healthy diet, whilst at the same time 1 in 3 people are living with overweight or obesity. Poor diets are responsible for about 22% of adult deaths globally.
We need a food system that ensures everyone, everywhere can access and afford a safe, sustainable, and healthy diet.
How can you make a meaningful difference?
First, by a simple act of signing a pledge, you will raise awareness about these issues amongst global decision-makers and help create a big buzz. 
Secondly, our Act4Food Act4Change Youth Leaders, with support from other youth, have agreed on a long list of potential Actions 4 Change. On 18 May, you will be able to vote for which Actions 4 Change are most important to you. The ones with the most votes will make it onto the final list that will be presented at the United Nations Food Systems Summit in September 2021 together with the number of pledges signed. The actions will then be used to gain the support of global decision-makers at events later in the year and in the decade of action that lies ahead, ensuring that they implement policies that create a healthy, just, and sustainable food system.
Check back on this page to see how your opinion has been heard and for opportunities to represent the Act4Food Act4Change at global events later in the year. 
The Act4Food Pledge
We know our current food systems contribute to ongoing health, climate, and biodiversity crises, and violation of human rights. We will only be able to achieve the United Nations Sustainable Development Goals with a fundamental transformation of our food systems.
While we as young people have been excluded from most political and economic decision-making processes, we are also the ones who will live the longest with the consequences of decisions made today.
We pledge to act. And we demand urgent large-scale action from others, especially from decision-makers in government and business.
As youth we #Act4Food #Act4Change to support #GoodFood4All
Who are "we"? 
"We" are a global group of young people (see map) who are passionate about creating fairer, healthier and more sustainable food systems.
We are supported by a global group of organisations and youth networks, including the big 6 youth-led organisations that are working on a range of issues connected to food, such as biodiversity, farming, nutrition, gender equality and sustainability.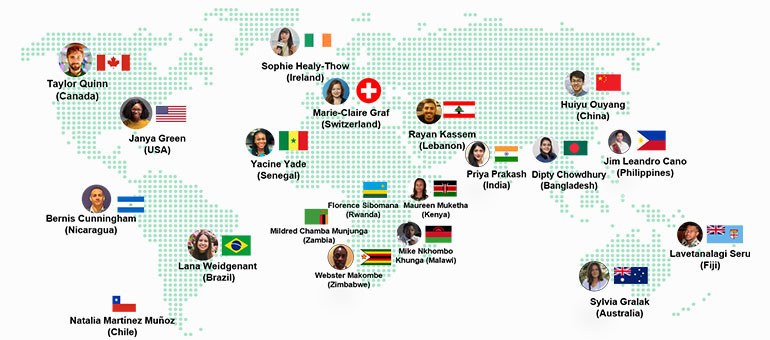 In close coordination with the United Nations Food Systems Summit secretariat, the work of the group is being facilitated by two non-profit organizations, us at the Global Alliance for Improved Nutrition (GAIN) and our counterparts at the Food Foundation, with sponsorship so far from the Irish and the UK governments respectively.
Together we are convening a global consultation to bring together youth leaders, activists and campaigners from around the world to co-create the first ever list of actions that governments and businesses all over the world need to take in order to transform our broken food system. Most importantly, we are inviting you to decide what is on it.
Get Involved!
Visit the webpages www.actions4food.org and www.actions4change.org and join the Movement! 
If you have a query or wish to find out more, get in touch with the team at nqayyum@gainhealth.org or chloe.mackean@foodfoundaiton.org.uk
 
Videos
---