Berlin, 30 August 2023 -
Imagine a classroom filled with eager young minds, ready to embrace the world's opportunities. Now, picture these same children and adolescents, their potential stifled not by lack of ambition, but by an invisible adversary – hidden hunger. 

Hidden hunger is a silent epidemic. It refers to a lack of micronutrients – those indispensable vitamins and minerals needed to sustain good health and development. Most recognized and significant micronutrient deficiencies are caused by a lack of iodine, iron, vitamin A and zinc. Furthermore, low intakes of calcium, vitamin D, and B vitamins, such as folate are also common. The effects of hidden hunger can be devastating and affect people throughout the life cycle. In children and adolescents, they can lead to stunting, mental impairment, frequent infections and fatigue, reduced learning capacity, and even death. 

Multiple micronutrient deficiencies plague communities across the globe, robbing children of their ability to thrive. As we stand on the cusp of the 5th International Hidden Hunger Congress in Stuttgart Hohenheim, the spotlight turns towards school children affected by this crisis. As the anticipation builds, I find myself drawn by the remarkable convergence of minds – scientists, researchers, policymakers, NGOs, civil society members, private sector representatives, and curious thinkers. It's a moment that resonates with the urgency of a challenge that's often hidden in plain sight.

The congress is a vibrant event that transcends disciplines and borders. This year, the theme "Improving Food and Nutrition Security through School Feeding" promises to illuminate the path toward nourishing the next generation. The focus will be on leveraging school feeding programs to ensure the nutritional well-being of children and adolescents. 

The importance of healthy diets during childhood and adolescence, as well as the benefits of school feeding programmes, are widely acknowledged. Beyond boosting school participation and learning, improving nutrition outcomes, especially in girls, their impact extends even further. These programs invigorate local value chains, bolster economies, and support social safety nets. In essence, their multi-sectoral returns represent a win-win for most governments striving to transform their food systems.
Empowering Change: GAIN's Commitment to School Feeding
As a proud partner of the School Meals Coalition GAIN is dedicated to supporting governments in enhancing and establishing sustainable national school meal programs and striving for every child to have the opportunity to receive a healthy, nutritious meal in school by 2030. At the Hidden Hunger Congress, GAIN staff hailing from Kenya, Tanzania, the Netherlands, and Germany will share their experiences and efforts contributing to nutritious and safe school meals.  
Innovative solutions from GAIN's Sun Business Network and the Commercialisation of Biofortified Crops (CBC) programme are set to shine in the congress' poster session. In Tanzania, these initiatives have orchestrated the integration of nutritious and fortified as well as biofortified school meals. By extending training and support to stakeholders across the spectrum – millers, suppliers, processors, school heads, and students – the projects have increased the distribution of fortified maize flour and biofortified crops. As of 2023, over 130,000 Tanzanian schoolchildren have benefited from accessing meals brimming with essential nutrients. Moreover, these projects have played a pivotal role in shaping Tanzania's National School Feeding Guidelines and mainstreaming industrial fortification and biofortification into government policies.
Fueling Transformation: Conversations that Matter
The congress' first day will witness Sowrya Kilaru, Food Fortification Manager, of GAIN's Large Scale Food Fortification Programme, joining a panel discussion hosted by Tina Koch from the Deutsche Gesellschaft für Internationale Zusammenarbeit (GIZ). The discourse, "School Meals as a Lever for Transformation of Agricultural and Food Systems," will traverse the diverse landscapes of school feeding programs. Sowrya will shed light on the potential of industrial fortified and biofortified foods in school meal programs. Her insights will showcase GAIN's approach, empowering fortified food producers through comprehensive fortification strategies, creating change at scale through public private partnerships and propelling policy development at global, regional, and national levels.
Charting New Territories: GAIN's Research on Food Procurement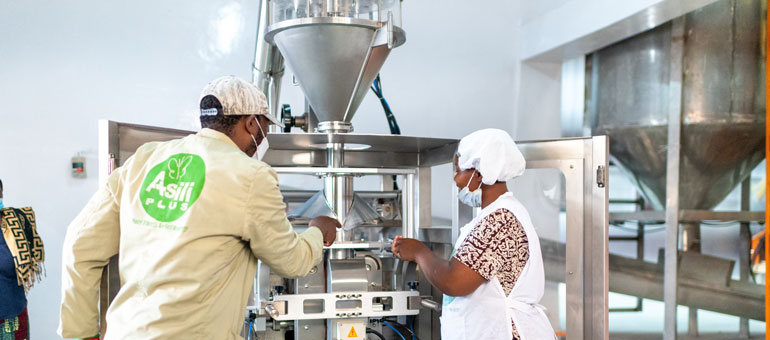 The second day of the congress will introduce Julian Xie, representing the Benefits Data Trust. Julian will present collaborative research spearheaded by GAIN's Food Systems Governance programme, exploring public food procurement criteria within urban institutions in Kenya. This enlightening study underscores the importance of actionable data and public-private partnerships in driving program success. While nutrition, food quality, and community development have been central to procurement criteria, environmental sustainability seeks a louder voice in this narrative. The findings extend a supportive hand to policymakers in low- and middle-income countries, offering insights into public food procurement to nurture local economies and nourish children and adolescents.
Join the Conversation: Unmasking Hidden Hunger
As we delve into the discussions and insights of the 5th Hidden Hunger Congress, we invite you to be a part of the solution. Follow our journey and the impactful presentations by GAIN and other stakeholders. Whether you're in Stuttgart Hohenheim or following the discourse from afar, let's unite in unmasking hidden hunger and ushering in a brighter, well-fed future.