London, 13 September 2021 -
Roberta Bove will lead GAIN's Nutritious Foods Financing Programme, a programme to harness food systems investment to tackle the root causes of malnutrition, mainly in Africa.
On 13 September 2021, finance professional Roberta Bove was appointed as Lead of the Nutritious Foods Financing (N3F) programme at the Global Alliance for Improved Nutrition (GAIN). The programme aims to influence investors and existing funds to better support nutritious foods value chains, and to lead by example through a new investment facility that will specifically target nutrition in Africa.
Ms Bove comes with 13 years' experience in impact investing in emerging markets, international development, and corporate finance – including work for the Clean Cooking Alliance's Venture Catalyst programme, advising SMEs in Sub-Saharan Africa with grants and technical assistance.
Prior to that, Ms Bove was a Senior Investment Manager at Palladium, providing direct debt financing to agriculture and off-grid solar SMEs in West Africa.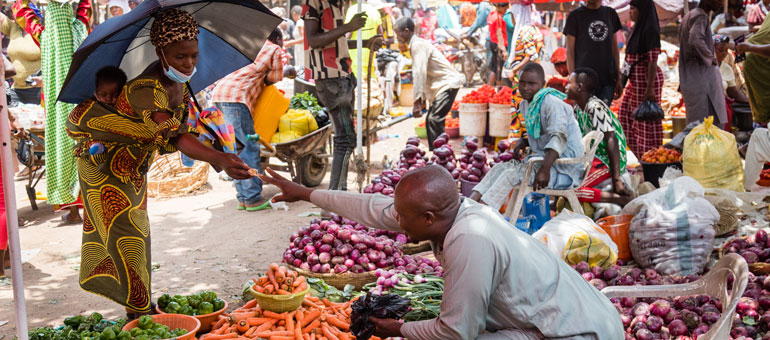 Bove's recent addition to GAIN is testament to the organisation's willingness to catalyse private sector financing to help scale up the production and sale of locally produced nutritious foods in Sub-Saharan Africa.
Commenting on the appointment, Dr. Lawrence Haddad, Executive Director of GAIN, said "Thanks to Roberta's previous experience in supporting SMEs in Sub-Saharan Africa with technical assistance and impact investing, Roberta brings a unique perspective to lead our N3F work. We are thrilled to have her on board and look forward to the N3F launch."
Despite their vital role to food systems, many SMEs in Africa face significant challenges to grow, largely because they lack reliable access to finance  and have limited managerial skills. Without these key ingredients for success, SMEs are unable to expand operations and market reach, enhance the nutritional value of their products, or improve their food safety standards. On the other hand, international investors often struggle to find viable investment opportunities. Therefore, efforts to increase available financing for nutritious foods-producing SMEs in Africa is essential to strengthen food value chains and increase the supply of nutritious foods.
Ms Bove said "I am delighted to have joined GAIN to lead the Nutritious Foods Financing Programme. This represents a huge opportunity to work side by side with nutrition experts and our partner asset managers to prove that nutrition is investible. The ambition is to crowd-in other investors to address a current major financing gap that Sub-Saharan African SMEs are facing – making nutrition the next lens for impact investing."