Dar es Salaam, 19 September 2023 -
Delegates numbering more than 5,000 and representing over 90 countries converged to explore strategies to harness Africa's vast potential in expediting the development of regional, national and sub national food systems that would not only benefit the continent but also the entire world.
Participants included political leaders, public servants, representatives of international organizations, development agencies, academic institutions, private sector entities, and youth delegates. The 5-day event focused on enhancing local food production, bolstering resilience against local and global challenges, alleviating poverty, and ensuring food and nutrition security.

Africa's food systems confront a multitude of challenges, not limited to climate change, biodiversity depletion, pollution, conflict, migration, external crises, and shocks. Furthermore, regulatory impediments, inadequate funding and infrastructure deficiencies compound these issues. A prevailing theme was the necessity for collaborative efforts among African countries to achieve the shared vision of equitable, prosperous, resilient, and sustainable food systems. In addition, it was clear that any initiatives aimed at transforming national food systems must align with Africa's overarching vision of feeding itself and the world, for the desired transformation to be achieved.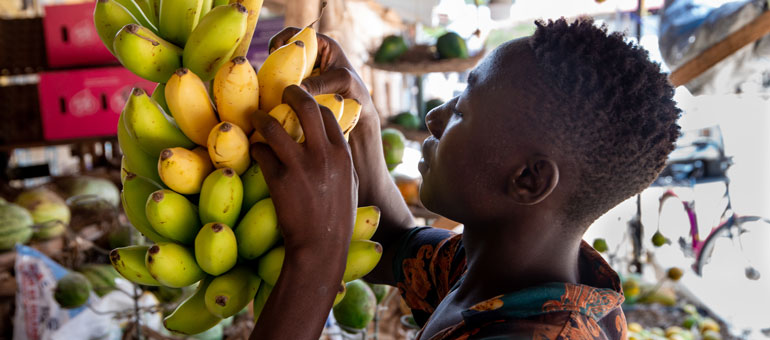 Throughout the fora's 41 sessions participants delved into various thematic areas within the food system, offering profound discussions and sharing best practices for agricultural and food system transformation. Choosing which sessions to attend became a task of prioritization based on individual or institutional interests.
Key takeaways from the Forum are summarised below:
Prioritising Data and Knowledge Sharing - Emphasizing the significance of evidence-based strategies, collaborative partnerships, and knowledge exchange in the transformation of food systems and the promotion of healthier diets.
Promoting and projecting the transformational opportunities of agriculture - Acknowledging the transformative potential of African agriculture, as it is anticipated that by 2030, the agri-business sector in Africa will reach a value of $1 trillion, with smallholder farmers contributing to 70% of food production.
Mainstreaming Women and Young People for better nutritional outcomes - Recognizing the need for heightened efforts to improve nutritional outcomes, particularly for women and children.
Improved Policy Coordination - Addressing the issue of policy incoherence at the national level, emphasizing the necessity of alignment and effective management of trade-offs in initiatives aimed at food system transformation. A multisectoral approach to coordination was also highlighted.
Aligning Sustainability Considerations - Underlining the importance of environmental and climate considerations in food system transformation, with a focus on climate adaptation strategies. It was proposed to integrate food system transformation actions into National Determined Contributions (NDCs). Given Africa's annual loss of approximately $500 billion due to climate change, adapting the continent's food system is imperative. Governments were urged to incentivize farmers to invest in climate-smart agriculture.
Expanding Access to Finance - Highlighting the need for approximately $76 billion in annual funding to transform Africa's food system, recognizing that government resources alone cannot suffice. Collaboration and increased private sector investments were stressed to complement the efforts of governments, multilateral organizations, and development partners.
Additionally, the Global Alliance for Improved Nutrition (GAIN) capitalized on the event to launch a groundbreaking nutrition financing initiative in collaboration with Incofin Investment Management (Incofin IM). The Nutritious Foods Financing Facility (N3F) aims to catalyze private-sector funding for SMEs to expand the production and distribution of locally sourced nutritious and safe foods.
These insights represent only a fraction of the Forum's sessions, activities, and discussions. It is eagerly anticipated that stakeholders will translate the Forum's outcomes into tangible actions for the betterment of Africa's food systems and, by extension, global food security.