Nourishing dreams
The adolescents and youth of today's digital age may be more switched-on and connected than earlier generations, but they also deal with a slew of new challenges-fewer work prospects, interrupted schooling, COVID-19, climate change anxiety, mental health issues, and many others. They are also increasingly facing a rising burden of multiple forms of malnutrition-undernutrition, vitamin, or mineral deficiencies along with growing rates of overweight and obesity.
Nevertheless, these youth also have agency over their decisions and are increasingly wielding an emergent ability to influence-particularly in low- to middle-income countries where they make up such a large cohort of the population. In Bangladesh, adolescents (children aged 10-19) make up fully one-fifth of the population, an estimated 36 million individuals. 
In recent years, the world has witnessed a handful of powerful adolescent-led social campaigns that continue to gain momentum-most prominently around global climate action. 
It is against this backdrop, that GAIN Bangladesh and partners have been working to catalyze a nation-wide adolescent social movement called "Nourishing Dreams". Key to its success is the "Eat Well Live Well" – Bhalo Khabo Bhalo Thakbo (BKBT) campaign.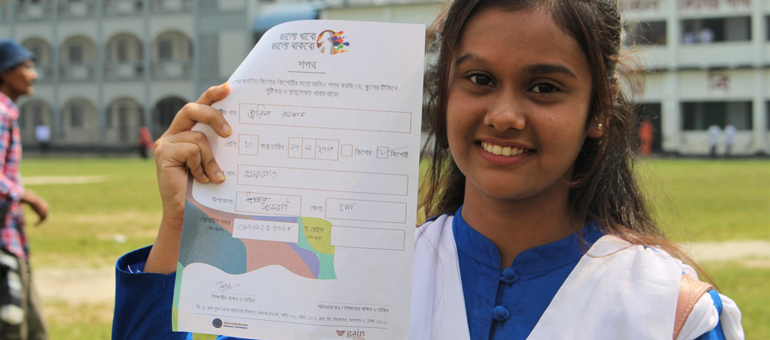 Through Nourishing Dreams, adolescents and youth are increasingly becoming aware of how healthy diets are integral to the achievement of their dreams and aspirations, and how unhealthy diets can hold them back. The idea is to make their voices heard and thereby influence the government and the food businesses to bring about real and lasting change. The Government of Bangladesh has pioneered the National Adolescent Health Strategy 2017-2030 and is now costing a national plan of action with nutrition as a key pillar, and this now includes activities around the Eat Well, Live Well BKBT campaign.
Since August 2019, adolescents have been sharing their dreams and regularly creating new content related to how to accomplish these dreams on multiple social media platforms. Examples are available online at these two links: here and here. One of the videos attracted more than 8.9 million views and 400,000 reactions and comments. The video call to pledge pocket money towards buying healthier snacks-launched on social media in late February 2020-achieved more than 2 million views within 10 days, demonstrating successful engagement with adolescents on an emotional level as seen in the link.
Celebrating a milestone
On October 31st, 2020-and despite the unforeseen disruption caused by COVID-19. GAIN is taking immense pride and joy in celebrating the achievement of reaching an impressive milestone. One million Bangladeshi adolescent boys and girls have pledged their pocket money towards eating healthier snacks. These pledges, while perhaps small individually, together offer a powerful signal to governments, vendors, and food corporations to meet the growing demand for nutritious snacks. 
Dr. Rudaba Khondker, Bangladesh Country Director of GAIN, in a statement, congratulated the adolescents for taking the pledge.
With this milestone reached under the leadership of the government, we will keep working with the partners and the private sector towards enhancing the supply of nutritious and safe food for the adolescents of Bangladesh
It is now time for the government and the food industry to respond by improving the supply of healthy snack foods and by making them more readily available in and around schools, as well as by improving the snack food system more generally to allow young people to have access to healthier snacking options. 
The pledge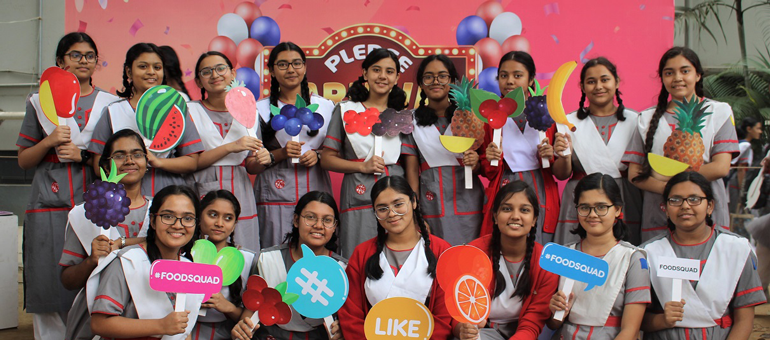 "We, the adolescents of Bangladesh, have been buying poor quality snack foods that don't prepare us to chase our dreams but we shop with our tiffin money and we have control over how it is spent. We can change our habits. However, there are very few quality, tasty foods for us to choose from so we will work together, with manufacturers and policymakers to change the way food is produced, manufactured, and sold so that we can make better quality, tasty choices every day. That is why we take this pledge because we want to eat well, live well."